Russian Ukrainian Evangelical Church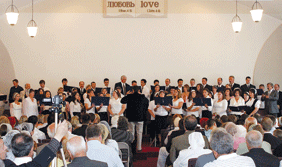 Vitaly Volchansky pastors the Russian Ukrainian Evangelical Baptist Church of Erie, Pennsylvania which has been established since 1950. It is located in downtown Erie and hosts a congregation of roughly 160 members. They have a heart to serve the Lord "wholeheartedly", as Pastor Vitaly explains, "I believe that we are part of Christ's body and Church; therefore, our way and direction is common for most Russian-speaking Baptist churches in the USA. We have similar ministries and work wholeheartedly to please God."

He goes on to share about how this church has seen God working in their midst over the past year. "We have felt God's strong leading not just during this past year, but throughout the entire history of our church, especially with major decisions. We saw God's will as, through difficult circumstances, He made a way for us to move from our old building." Even though the building, a former funeral home, had been the church's "home" for more than 50 years, God had something better in store for His people at Russian Ukrainian. Pastor Vitaly continues, "It was a necessity to move since our building was no longer available to us. Our church members began to offer more money than they had previously. Some people sacrificially gifted large amounts of money for building purposes. One family in particular gifted to the church a brand new grand piano. Many people sacrificed their time and worked hard for months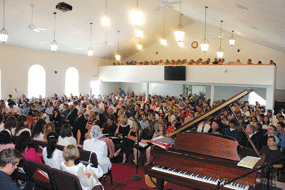 in order for the church to save money by finishing the job sooner. Whether they were young children or seniors of seventy-five years and older, they offered themselves and their lives to the Lord to provide different kinds of services in the construction of the building. Many members came together and dedicated their time and money to our church, while those who were not physically able to help, supported the church in prayers. We sought His help and received it." This along with a loan from CEIF allowed them to build and receive the blessing of a new building. "CEIF offered us a loan which we greatly needed. Without finances we could not have begun building a sanctuary. This is the work of God," Pastor Vitaly shares.


With all of this labor has come much fruit. God has been faithful to the works of His hand and faithful to use our ministry partners to show His faithfulness to His people in this congregation. This new building improved their ministry opportunities by offering them "services in a comfortable, luminous, and spacious hall with a wide stage for our choir and a lot of extra space for possible guests and visitors", according to Pastor Vitaly. He further reflects, "There are many rooms which allow for many different ministries and services to the Lord: Sunday school, Russian language classes, meetings, celebrations, and so on." This new space also allows for the church to invite youth from neighboring cities to spend time with their youth and to grow spiritually together.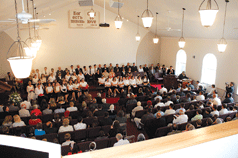 As he looks on to the future of Russian Ukrainian within the four walls of their new building and outside of it, Pastor Vitaly shares their heartbeat for ministry, "God alone has the exact vision for tomorrow. We would like to continue our services and try to reach not only Russian-speaking people, but all the people around us. Also, our church has been blessed with youth who are able to serve orphans beyond borders in Ukraine and in Russia. We are also involved with helping alleviate the suffering of people in the former Soviet Union's states. We would like to do more of this and continue to search for other opportunities to serve our Lord Jesus Christ."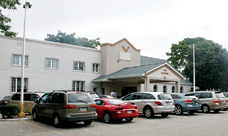 Because of CEIF's ministry partners, this church is growing in their service to the Lord. In the words of Pastor Vitaly, "Огромное вам спасибо от всех наших братьев и сестер, и да благословит вас Господь обильно! Without your loan, we wouldn't be able to build our prayer hall. Thank you so much, and God bless you richly in your service!!!"

Visitor Comments (0)
Be the first to post a comment!